The joinery in this new home is in keeping with the owner's vision of interest through the bold use of colour and shape.
The Kitchen
The kitchen, always an integral room in the home, needed to be functional and decorative as it shares space with the family room and meals area. Good, functional storage space and easy access in all areas of the kitchen were key elements in the design of this project.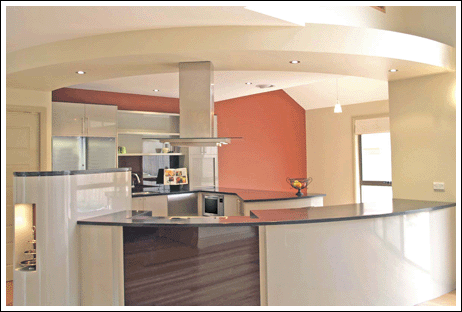 Curved breakfast bar front with glass feature
A curved bulkhead was created, with the benchtop following the same line of the curve. Facing into the family room is a large expanse of bench, which has a drop down section for the cooktop and underbench oven.The bench then steps up to full bench height and flows to meet a tall drawer unit. As well as incorporating the cooking appliances, this section of bench has an impressive array of 16 drawers, making storage and access quick and easy. The front of the cabinetry is a combination of gloss polyurethane and glass.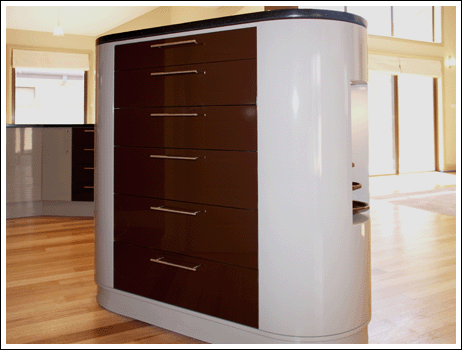 Tall drawer unit - visual appeal and functionality
The tall drawer unit serves as a visual barrier from the kitchen to the walkway and also as a functional storage area with 6 deep, wide drawers. The side of the tall drawer unit also includes a display nook with lighting, adding interest and atmosphere.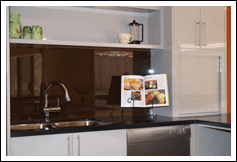 Glass splashback
The opposite side of the kitchen includes a walk-in pantry and also houses the fridge, sink and dishwasher and underbench microwave. A glass splashback makes a pleasing backdrop to the display shelving and roller door appliance cabinetry. The breakfast bar section of the bench opens into the meals area, offering a second spacious work and/or servery area. A wine rack built into the cabinetry in a contrasting gloss polyurethane finish offers yet more visual interest.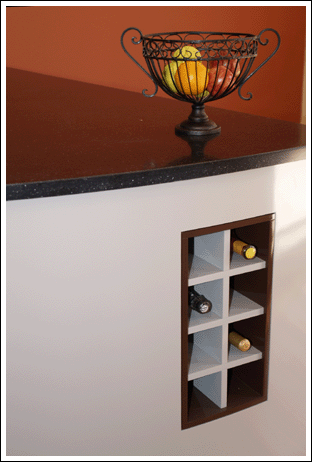 Built-in wine rack
The benchtop used in this kitchen is a solid surface, offering style and durability.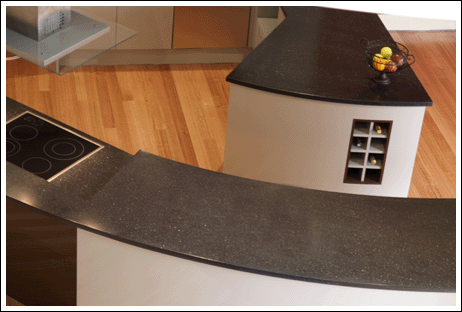 Solid surface benches
back to top
Vanity Units
The bathrooms in this home were fitted with custom made vanity units. The doors have a polyurethane finish, metal handles and solid surface tops with porcelain basins. Each unit was purpose built to the room, utilising combinations of cupboards, drawers and open shelving to suit the application.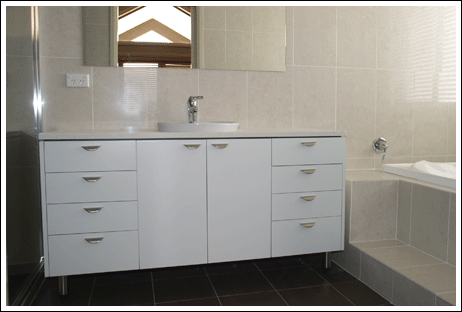 Double Vanity Unit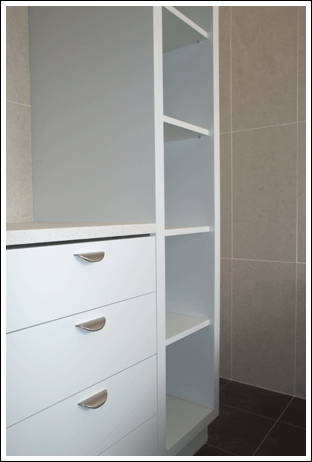 Shelving to vanity unit
back to top
Solid Timber Cabinet
A solid Tasmanian Oak cabinet was designed to fit in a nook in the dining room. The cabinet is made from timber to match the timber flooring used in the home and offers yet more storage opportunity as well as being a decorative piece of inbuilt furniture.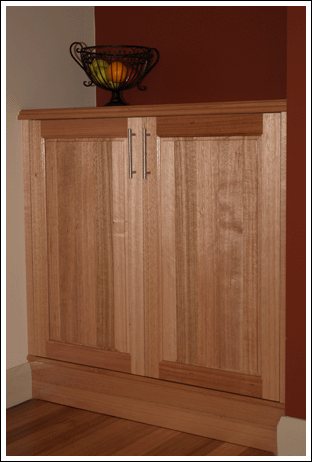 Solid Timber Cabinet
back to top
Desks
Desks were built into several of the bedrooms. They feature curved bench sections and generous drawer and shelving units to the end. The desks have been crafted from 25mm MDF with a clear polyurethane finish for durability.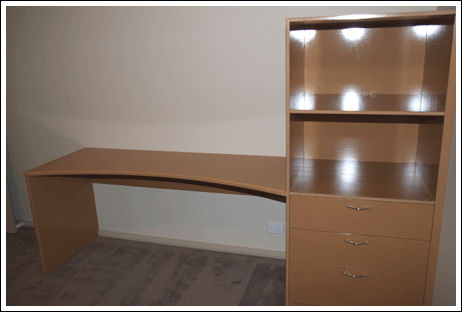 Desk with drawers and shelving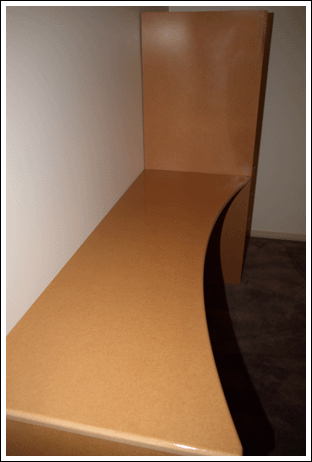 Curved desk with attached drawers and shelving
back to top
The products used in this project were:
---